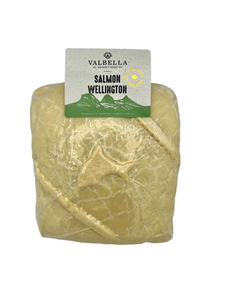 Valbella Gourmet Foods
*PRE-ORDER* Salmon Wellington
Regular price
$39.90
$0.00
Unit price
per
PLEASE NOTE:
NO Christmas Pre-Order items

will be available before the week of December 18th so please select your order dates accordingly. If you require items earlier, please email shop@valbella.ca and we will do our best to assist you.
Pre-Orders close December 18th at 9:00am.

Your orders will be shipped the following days:
Airdrie - Wednesday, December 20th
Calgary - Wednesday, December 20th, & Thursday, December 21st*
Cochrane - Wednesday, December 20th
Bow Valley - Friday, December 22nd
If you have selected in-store pick up, your order will be ready in the warehouse from 10am until 5pm on Thursday December 21st & Friday December 22nd. We will be closed Monday, December 25th and Tuesday, December 26th.
 *Please be aware that a day may be assigned to you should deliveries become too full for a selected day. Priority will be given to orders placed earliest, and we will inform you should your delivery date need to be changed.
SALMON WELLINGTON WEIGHT APPROXIMATLEY:
Small (~700g) - 2 people
Medium (~1.2kg) - 4 people
Large (~1.8kg) - 6 people
Serving/Cooking suggestion: RAW PRODUCT, must be fully cooked. Thaw in the refrigerator for 24 hours. preheat oven to 375 F. Remove plastic bag and place the meat on a lined baking tray. bake for approx 40 minutes (small) 50 minutes (medium), 60 minutes (large). Let rest for 10 minutes before carving.
Ingredients: Salmon, Wild rice, puff pastry (flour(wheat) vegetable oil shortening (canola oil, modified palm oil and modified palm kernel oil) water, salt, soya lecithin, sodium propionate, potassium sorbate, artificial flavour, lemon juice powder, artificial colour) carrots, celery, onion, garlic, white wine (sulphites) parmesan cheese (milk) cream (milk) butter (milk) egg, salt, spices
Product comes frozen.
---