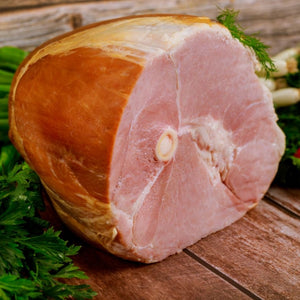 Valbella Gourmet Foods
*PRE-ORDER* Valbella Bone-in Ham
Regular price
$41.90
$0.00
Unit price
per
PLEASE NOTE:
NO Christmas Pre-Order items

will be available before the week of December 18th so please select your order dates accordingly. If you require items earlier, please email shop@valbella.ca and we will do our best to assist you.
Pre-Orders close December 18th at 9:00am.

Your orders will be shipped the following days:
Airdrie - Wednesday, December 20th
Calgary - Wednesday, December 20th, & Thursday, December 21st*
Cochrane - Wednesday, December 20th
Bow Valley - Friday, December 22nd
If you have selected in-store pick up, your order will be ready in the warehouse from 10am until 5pm on Thursday December 21st & Friday December 22nd. We will be closed Monday, December 25th and Tuesday, December 26th.
 *Please be aware that a day may be assigned to you should deliveries become too full for a selected day. Priority will be given to orders placed earliest, and we will inform you should your delivery date need to be changed.
BONE-IN HAM WEIGHT:
⅓ Ham: ~2.5-2.8kg - 6-8 people
½ Ham: ~4.0-4.5kg - 10-14 people
Whole Ham: ~8-9kg - 20-25 people
Bone-in ham can be a shank portion, or it could be a whole, or half leg that has the hip, thigh and/or shank bone remaining as part of the ham. Bone-in hams are more attractive and flavourful and are a great choice for friends & family dinners!
---