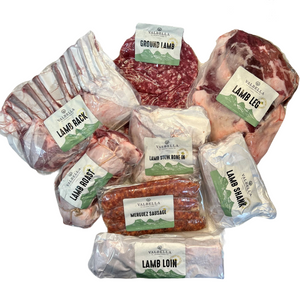 Valbella Gourmet Foods
Lamb Box
Regular price
$145.00
Sale price
$190.00
Unit price
per
As local as it gets!

Each lamb box contains products from half a grass finished lamb, from the local  Jumping Pound Ranch just outside of Calgary. Don't miss this opportunity to stock your freezer with hyper-local, high quality, nutritious meat. 
LAMB BOX CONTAINS:
Lamb Rack - The most popular and commonly known Lamb cut. Ideally done medium rare on the BBQ, sous vide, or pan roasted.

Lamb Stew (bone-in) - Collagen rich and the best cut for a nice long cook in the slow cooker or crock pot.

Lamb Roast - A cut from the shoulder, perfect for braising, stews, skewers, or the traditional Sunday roast.

Lamb Sausages - A classic North African sausage with a slight bit of heat. Wonderful on the grill or seared in a skillet.

Lamb Leg - A bone in cut that is the perfect roast for any occasion. Low and slow to a nice medium temperature.

Ground Lamb - The perfect starting place for burgers or a savoury pie, replace your traditional ground beef for a little extra flavour.

Lamb Loin - The most tender cut of lamb that doesn't need more than a quick sear in a pan or few minutes on the BBQ. Best served rare - medium rare.

Lamb Shank - The cut best suited to low and slow cooking. Braise for several hours until the meat is tender and falling off the bone.
APPROXIMATE WEIGHT:

Small - 4.5kg
Medium - 5kg
Large - 6kg
About Jumping Pound Ranch...
...Clarence and Karli Paterson purchased Jumping Pound Ranch in July of 2021. Aptly named for the beautiful creek that runs through it, the Jumping Pound Ranch is a 400-acre ranch located just 40 minutes east of Canmore. This land, which was originally purchased by Clarence's great grandfather, Richard Copithorne, has since been passed down through his grandfather and mother and is just up the creek from the original Jumping Pound Copithorne homestead. Karli, Clarence, and their young family couldn't be prouder to start the Jumping Pound Ranch to continue this ranching legacy, but with a little twist! They have moved away from the conventional cattle operations in this region to run a flock of polypay sheep . They will bring bi-annual group of lambs to market each year, in conjunction with Valbella Gourmet Foods. 
Products come frozen.
Unfortunately, substitutions are not possible.
---