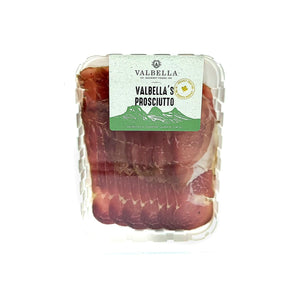 Valbella Gourmet Foods
Valbella's Prosciutto ~200g
Regular price
$11.90
$0.00
Unit price
per
Pink, salty, and cut into thin slices, prosciutto is one of the world's most popular way to eat pork. Simply place a piece in your mouth and let it melt on your tongue.

You can serve prosciutto on its own, or pair it with fruit, vegetables, bread, cheese, and wine. 
Its origin...
The origins of prosciutto date back to pre-Roman times. In Italy, villagers originally began to dry-age pork legs to extend their meat supply during the long winters. Over the centuries, the tradition of making prosciutto was perfected. Today the art is celebrated across Italy and the world.
Ingredients: Pork, salt, spices, garlic, sodium nitrite, sodium nitrate, sodium bicarbonate, dextrose, sodium erythorbate, ascorbic acid, brown sugar
---